So Jed doesn't want to know what we are having. For all 3 of our children, he has not accompanied me to the ultrasound - 1. because it freaks him out, this slightly alien-looking being living in my tummy for 9 months and 2. he doesn't want to know what we are having.
However, he is married to an anal control freak who hates surprises and must know everything at all times. I get all Gloria Steinam on him and claim "my body - my choice" and thus we always find out. Well, "I" always find out, first anyway.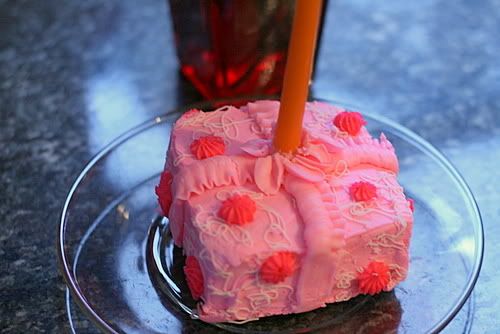 After 20 weeks of waiting, we finally decided to tell the girls about the baby on Saturday morning. Upon waking them up in the wee morning hours, I presented them with this present cake, candles lit, and singing that I had a big surprise for them. I told them we were going to have a baby this Summer. First question they asked? You know it -"Boy or Girl baby?" So, I told them. It really isn't my fault that they ran downstairs and told their dad, really. Darn kids just can't keep a secret.
xoxo,t