So, Eloise started t-ball yesterday. She is on the Mets(whomever they are?). Anyway, her jersey is Orange. It isn't too bad really. Most other teams are blue. I don't like girls in blue...especially navy blue.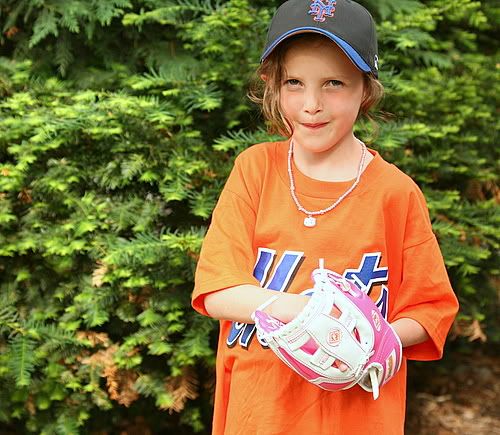 When her coach called, my first question to him was "what color are the tee's" - he said "tee's? - you mean jerseys?" Whatever. I just needed to know the color so I could buy shorts to coordinate. Not that it matters since the jerseys are made for 10 year olds and will cover any properly matched shorts you buy for your sweet girl. Geesh. I also needed to know if they were getting hats, so I knew how to do her hair for games.
Eloise and I went to Gymboree(shhh, I have been there on occasion to buy PLAY clothes), and we purchased a pair of embroidered denim shorts for $12.99. She has been begging me to wear them all month, but I told her denim shorts from Gymboree are for t-ball ONLY and she can find a nice Oilily or Matilda Jane sundress to wear in the meantime.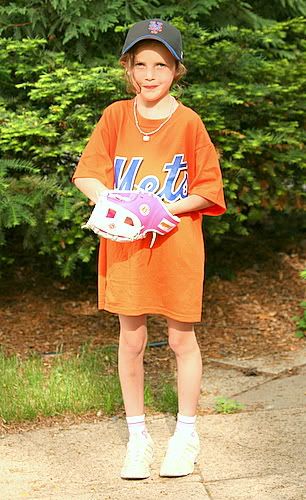 Turns out she could be just wearing her underwear since the "jersey" is so big. ..and you know what, Eloise is the TALLEST player on her team - you should see the gowns the short kids are sporting. It is a complete fashion nightmare out there. I tried to talk her into belting it like a tunic or tying a knot on the side, but she liked it gown style. Crazy kids.
I wonder if the league is looking for a fashion coordinator?
Speaking of fashion, I do have to say I am very impressed with our teams 1st base coach. Look at this cute little shift dress she is wearing with the gorgeous flats. I am assuming as Eloise was holding down 1st base, that this coach was admiring Eloise's Hello Kitty necklace. It pays to accessorize.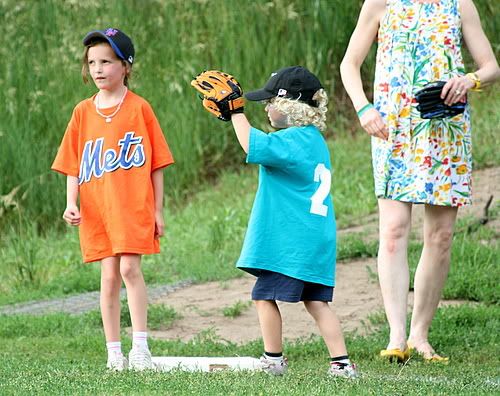 Oh, and yes, Eloise did bat and did actually hit the ball and she got 4 balls when she was in the field(with her cute little pink glove).
She is rocking the t-ball circuit this Summer. I love sports.
xoxo,t