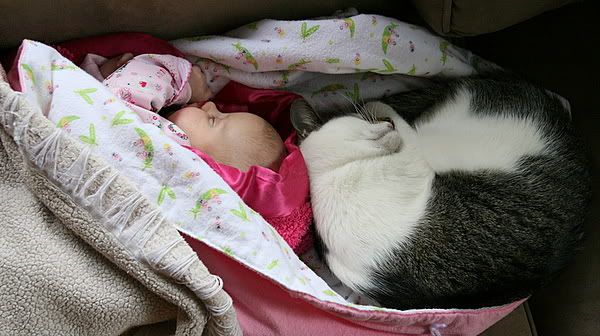 It is pretty well known within my family that until 6 years and 10 months ago, I liked cats more than babies.
Then I had my own baby, and my opinion changed.
I never liked babies, never wanted babies, never wanted to be around babies and pretty much ran and very politely and loudly said no if someone dare asked me to hold their baby.
I never babysat and never wanted to babysit. One time, my Aunt Sally made me babysit her baby - yes BABY...my cousin Adam. I think I was 13. Turns out my mom and all of her sisters wanted to go out and looked at me, the lone 13 year old girl and figured I was the perfect candidate to babysit. Really? I could think of 2 million other things I would've been doing at the time. But the money offered must have been good, and they had cable tv, so I agreed.
They never told me that my Aunt Sally CLOTH DIAPERED. Oh yeah, those lovely old fashioned cloth diapers that the pee soaked right through and you had to swish the poop around in the toilet to get off. I was so disgusted. I never babysat again or held a baby again for 20 years.
Cats ruled.
As a little girl, I didn't really even like other little girls - I preferred to hang out with my mom and her friends drinking coffee in the mornings and martinis in the afternoon.(0kay, my mom worked and didn't drink martinis in the afternoon - but I thought that would be a good story).
So, please imagine my surprise when I had my own baby that I actually really liked her and then had another one and holy moly a 3rd.
My kids rock.
These things are much better than cats I tell you.
However, now with 3 kids and a cat, Donut is definitely not feeling the love.
In the past 2 months, Donut has started acting out to in not so appropriate ways. Believe me, I have had it up to here(raise hand above head about 36") with Donut and his inappropriate behavior. Damn cat.
So last Friday, I packed him up in his carrier and told the family I was taking him to the vet and odds were that Donut would not be back. Sorry, I just couldn't take Donut anymore. No one really deserves Donut.
I met with the vet and I yelled and screamed and cried about Donut and what he has done to our lives the past 2 years. Why, why does he have to be so damn cute and such a pain in my ass. Why?
The Vet did a multitude of medical tests on Donut and suggested that I leave him at the office for day to catch a break. The Vet called at 5 to let me know that Donut was physically in perfect health. I made Jed go pick the damn cat up and pay the $250 vet bill. Damn Cat.
The Vet then called and told me that he believes that Donut has some depression issues and is very upset about the new baby and perhaps his behavior will improve with just a little extra love each day.
Really?
So, we are all now giving Donut a little extra love each day. No matter how much it pains us so, we are doing it. ..and believe it or not, it is working. He is a different cat with a pretty sunny disposition and currently no inappropriate behaviors.
It's amazing what a little love can do.
I still like my babies better though.
xoxo,t