Either someone slipped me a Mickey in my morning coffee, or I was suffering from sleep deprivation when I decided what a great idea it was to take all 3 kids to THE Mall of American last Thursday unassisted. Yes, THE Mall of America – the largest and finest mall in the good ol' US of A…and during back to school shopping.
Okay, it was raining, I was beginning to go a bit loony and I had Gap returns. Yes, Gap returns. I hate the Gap, but I bought the girls 2 outfits from the Gap because I had coupons. I hate coupons. I hate the Gap. I had to return it all as it kept taunting me from its ugly, cheap, blue plastic bags.
So we went to the Mall. I promised the girls they could each ride 2 rides if 1.) there was no whining the whole day about "shopping" and mommy got to go into a mommy store of her choice and 2.) if they got to ride the rides they had to also go to a mommy restaurant and no fast food would be spoken about and they would have to eat something outside of the tan food group. Yes, at THE Mall of America there is a flippin' amusement park that sucks the blood and money right out of you, and it even has teenagers dressed as Spongebob walking around looking for photo-ops. We don't have cable because of him. He makes me want to be a better mom.

I also gave Esther my iphone for the day so she could document our day at the mall. Photo montage brought to you by Esther and her(my) iphone.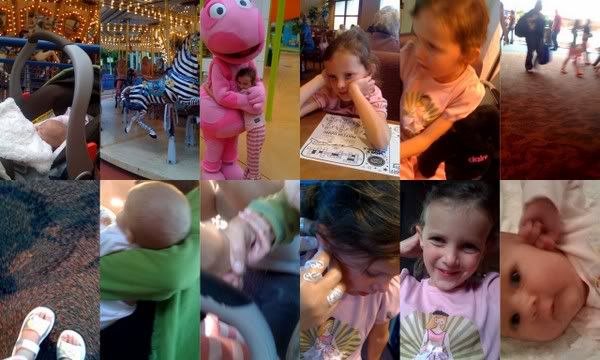 Highlight #1 of the day was our lunch at the Nordstrom café. Do any of you have a child who tells you they have to go to the bathroom just 10 seconds before they actually go to the bathroom? Are they crotch holders because they wait until the.very.last.moment? I have one of those children. And it doesn't matter how much I ask her to go to the bathroom, how many times I physically take her and try to make her go to the bathroom, or how many lectures on GOING TO THE BATHROOM when you first feel the urge to go…she loves to just let me know at the very last second. We enter the Café, we order, we get settled at our table, the girls get all creative on their placements, Astrid wakes/screams and begins to nurse. We are settled-in and starting to relax after 2 hours of Mall wars, amusement park rides and fighting with shoppers from the farm. Our food arrives, we are eating, nursing and enjoying and then BOOM "mom, I have to go to the bathroom – NOW!" Crap.
I grab Esther in one hand literally making her fly out of the booth and in the direction of the potty. I hold nursing Astrid in my other hand and we all start running through the restaurant to the bathroom. It is then that I realized my 6 year old was now sitting by herself in a public restaurant, with my purse. I did not have time to gather Eloise, the stroller and my purse AND let the waiter know that we were coming back. We are coming back…I want to finish my salad. I start comparing scenarios – grab all the shit, Esther pees on the floor…don't grab the shit, we make it to the potty…will Eloise be okay by herself, will she be kidnapped? I scream over my shoulder to her "you stay put – do NOT talk to anyone, do NOT move, do NOTHING..just sit and eat. Trust NO ONE and watch my purse!" I then yelled to a table of red hat society ladies to keep an eye on the little girl in the corner as her psycho mom, nursing baby and crotch-holding preschooler will be back shortly.
It was also then that I realized that I forgot to pull down the other side of my shirt or fix my bra so I was running through Nordstrom's café with BOTH of my not so sexy and leaking boobs completely hanging out and bouncing as I ran with a screaming baby trying to keep a latch…and WORSE, with my shirt up I was revealing, my lovely roll of belly fat left over from cute baby belly. Now un-cute fat post-baby belly was totally hanging over my pants and also bouncing as I ran.
We made it to the bathroom, dry, yet sweaty and slightly disturbed…and Eloise was just fine when we returned to our table. My salad rocked.

Highlight #2 Then Eloise made me take her to get her ears pierced. Yay Eloise!
xoxo,t