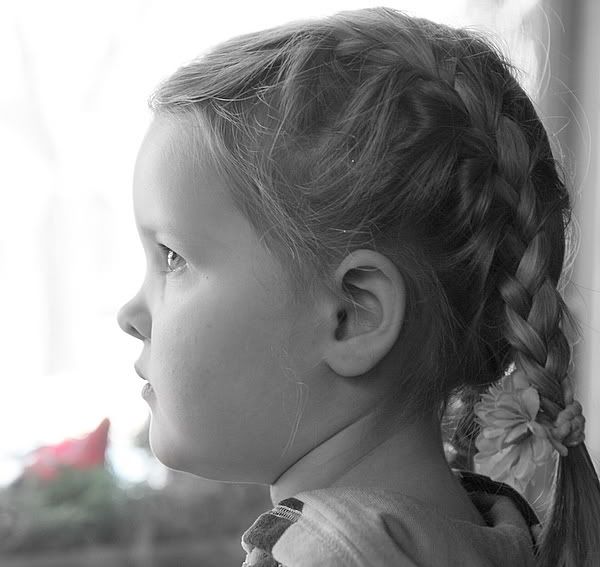 She pulled tightly at her granddaughters hair. The only proper way to French braid is to do it tightly. The granddaughter winced at the procedure, but knew the pain was worth the final product.
Her fingers worked quickly and professionally, as they should, having spent many hours of her life braiding her 6 daughters hair most every morning.
She laughed as she braided, as she told stories of her childhood and just acted plain silly.
Mainly the granddaughter didn't care so much about the braids. She just wanted her Grandma to braid her hair - to have her undivided attention and listen to her sweet, soft voice and lively laughter. Mainly the granddaughter just wanted to feel her Grandmas sweet touch.
And she would laugh and tell her granddaughter the same thing, every time she braided her hair..."Oh, Tracy - I am so sorry you inherited my thin, limp hair. It is so hard to braid. I pray for a daughter for you with thick, long locks."
The granddaughter would close her eyes and dream about the daughters she would have with thick hair - unlike her own and her grandmas.
She would finish the braiding the same way every time. With a gentle kiss on the top of her granddaughters head.
The final product was always perfect.
The granddaughter looked up into her Grandma's sparkling eyes and thanked her for braiding her hair and laughed like a school girl at the braids she now wore as a 32 year old woman.
The granddaughter would never feel too old for her Grandma's touch or to hear another one of her stories.
****
As the granddaughter gently braided her own daughters hair this morning, a cardinal flew by the window.
A tear ran down the granddaughters face as she remembered that this is the day her Grandma passed 4 years ago.
How bittersweet to kiss her own daughters head and wish for her a daughter with thin and shiny hair - hair just like her Grandma's.
xoxo,t