She believes. In the big man in the red suit, in the magic, in the fact that he will make her dreams come true and fulfill her wishes and lists on Christmas morning.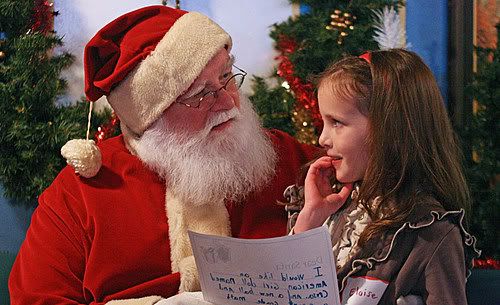 But what is a Santa to do?
For six months, she has asked for the American Girl doll Julie. Check. Bought doll, bought clothing, bought accessories. Donated kidney to pay for it all. Check. Santa's shopping is done.
So on Saturday, she writes him a NEW letter, sits on his lap, and tells him that she has decided she really wants the American Girl doll Chrissa this year. She goes onto explain that she has to get Chrissa this year because she is the doll of the year and won't be available next year. Next year, she will ask for Julie.
Problem is, Santa doesn't have another $300 to spend on Chrissa this year and to save Julie for next year...and Santa hates returns.
What is a Santa to do - give her Julie, possibly breaking her heart by never getting Chrissa? Buy Chrissa while coughing up the debt and making my girl happy.
See, this is my problem with Santa. If Santa were just about the magic and not about the gifts, I would be fine. What if she knew it was just me buying her gifts? I could talk to her about it. Now I just stay up all night worrying about what to do to save her Christmas and to not have her lose her faith in Santa's magic.
Do I impose a deadline for Santa lists? November 15th is Santa lists set in stone date?
xoxo,t