..do too much shopping. bad, bad girl!
I either need to buy more hangers, or quit shopping for their Summer wardrobes...so I need activities to keep me busy, that allow some creativity, and also fulfill my strange nesting requirements that I am yearning for at 7 months pregnant.
Last week, I took(copied) the tag from the Room Seven clothing brand, and made pictures for the girls walls to match their new bedding.
The great thing about this project:
-it involved fabric - so it was like playing with clothing, but not really, but I could close my eyes and pretend
-it involved fabric from my stash - have you seen my stash lately? Frightening. It's fun to USE it, not just look at. Note to self. I am not a fabric store, I am a sewing hobbyist.
-it involved using art canvas that I already owned - given to me by Kristi 2 years ago and collecting dust in my attic.
-the girls LOVED their Room Seven likenesses so much that they now want dresses like them...thus using more of my stash hopefully.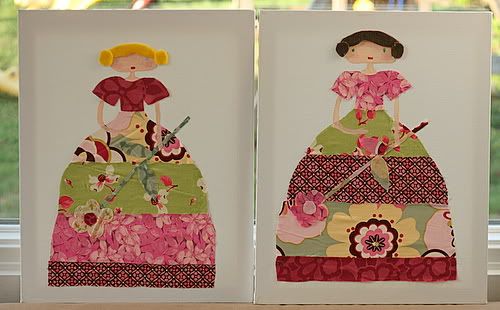 The pictures are about 2 1/2 feet tall and I am gloating a bit that I actually did something artistic. Problem is, now I am obsessing about buying this outfit for the girls to match their damn walls.
Counseling, I need counseling.
xoxo,t