Sunday was a busy day for Eloise - a birthday party at the zoo and an outing to the American Girl store with a friend for dinner and movie and a bit of a shopping.
Jed was working all day, so Esther and Astrid and I did mundane things like laundry, dishes, vacuuming, driving Eloise to and fro, and basically doing what we usually do on busy Sundays - catching up from the week and preparing for another one.
And every 10 minutes, Esther would look up at me and say "I miss Eloise, is she coming home soon?"
I realized that planning a playdate for Esther would've been wise, as she was missing her big sister so much. So instead I told her that I would take her out for a very special dinner - just us - and she could choose ANYWHERE she wanted and eat ANYTHING she wanted - even if she chose to just eat at the ice cream parlor.
I held my breath, secretly hoping that the words McDonalds or Pizza didn't come out of her mouth. (McDonalds is a very special treat at our house on our 3 times per year journeys there and we have never been to a ChuckECheese and I pray nightly that we never will..)
"Sushi" she exclaimed - "and I want to sit at the bar and watch him make it for me!"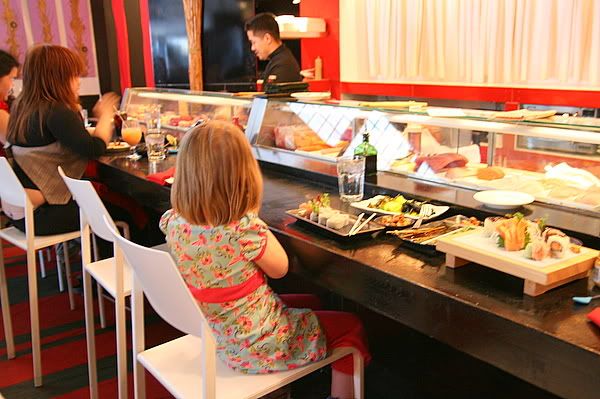 There were shouts of "woohoo" coming from me and hi-fives all around! I love a 5 year old who loves sushi!
So, we ate trays and trays of rolls and sashimi and pickled eggplant. And when you get a sushi chef that has a 3 year old - you get special cucumber rolls, all the sushi rice a baby can eat, and free green tea ice cream smothered in whip cream.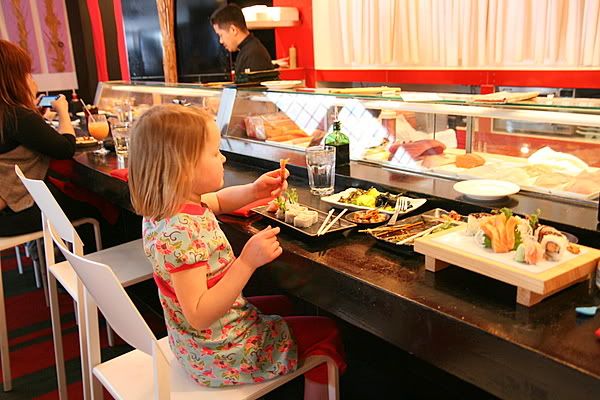 Next time she is insisting on a fancy drink with her own umbrella.
xoxo,t