As you know, Astrid is not the
easiest
of babies.
At all
.
Bath time has been one of biggest issues. She hates her bath, hates the water - whether by sponge, sink, tub, toys, warm, cold, bubbles or sans. Hates it. And since she can scream like no other baby - her bath time screaming is loud enough for the neighbors to call 911 for fear of abuse.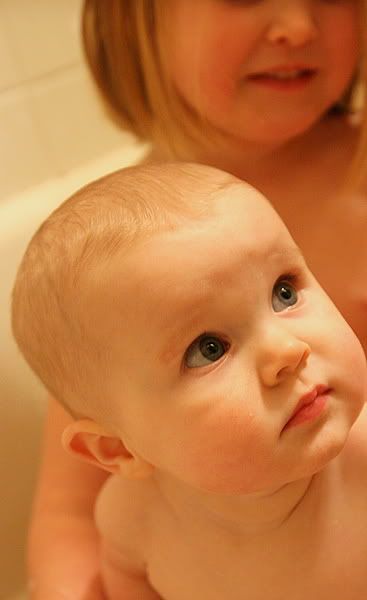 This is not unfamiliar, when we moved into our home 5 years ago, I went to our neighbors - whose home is only separated by a small sidewalk from ours - introduced myself and explained to them to ignore our 2 year olds crying every night at 6:30pm - as that was only bath time. We were really loving parents, but like our children clean.
Eloise stopped complaining about her bath when she turned 5 and was old enough to just take a quick shower.
At 6 months, we signed Eloise up for swimming lessons - with the thought that being immersed in swimming at that young could only develop a good swimmer. She screamed and fought and freaked for 5 years of swimming lessons...and still has little interest to put her body in the water. She takes after my side of the family - mostly made up of non-swimmers.
So we did not offer lessons to Esther, after our first failings - and the girl can swim underwater with no training and can lay in the tub for 3 hours pretending to be a mermaid.
So it was Esther who suggested this week, that now Astrid is sitting, she would take a bath with her and play with her, scrub her and play games.
Within seconds, the screaming stopped and an actual smile emerged.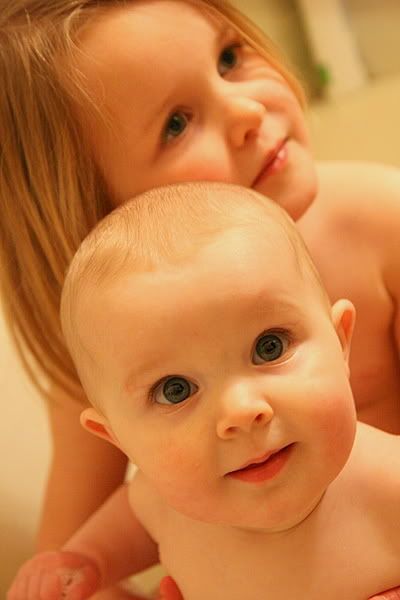 One less crying episode I have to listen to each day - only 10 more to go.
xoxo,t