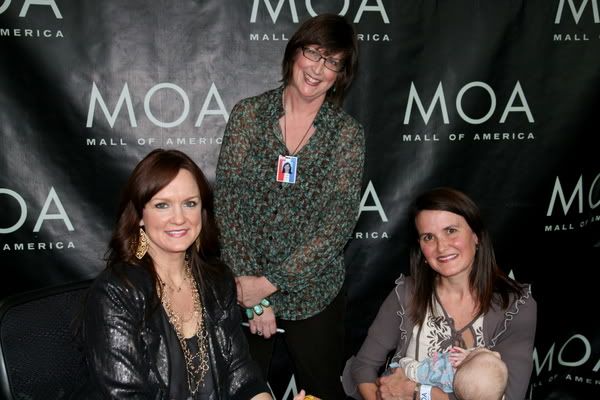 So I stood in line yesterday for 3.5 hours to get a cookbook signed. That is what we told the curious onlookers at MOA yesterday. People would come by and be like "hey, who is coming, and what are all you beautiful women(okay, I made that up, they didn't say that - but did you see the beautiful women there???) doing in line?"
We said calmly "to get our cookbooks signed"..and then with typical Minnesota exuberance, we put our hands sheepishly over our months as we screamed "AND TO MEET
REE DRUMMOND THE PIONEER WOMAN
!!!!!" And then we made loud, obnoxious giggling sounds.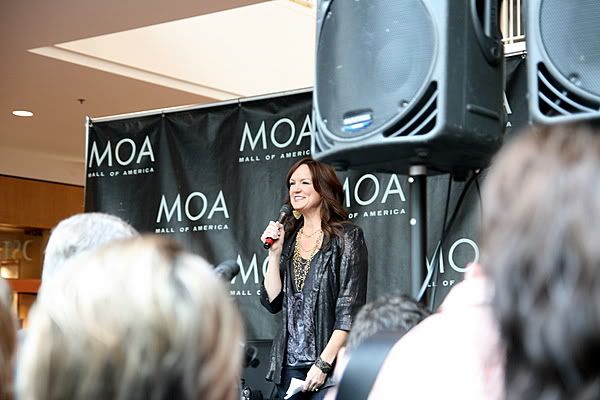 Okay, I did that, but I know there must have been others.
I have to say that in my almost 41 years on this earth, I have never stood in line for 3.5 hours for anything.
Not even for the Wii when it came out 3 years ago. Or for the EGGO waffle shortage currently happening. My kids have to settle for toast and board games.
Kristi
, Astrid and I arrived at 10am and were 30th in line. Ree came out promptly at 1pm and we were sitting with Ree by 1:40.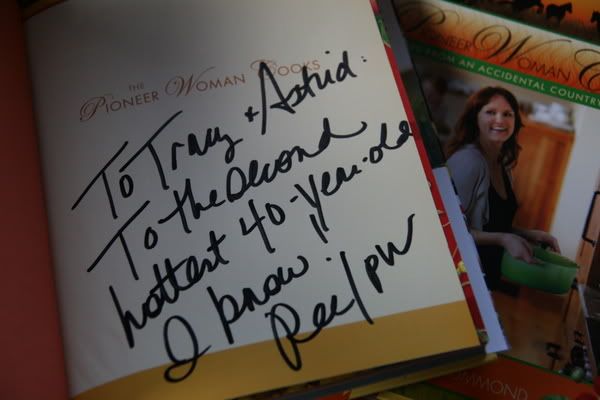 I went up to the 3rd floor to snap a shot of the growing crowd.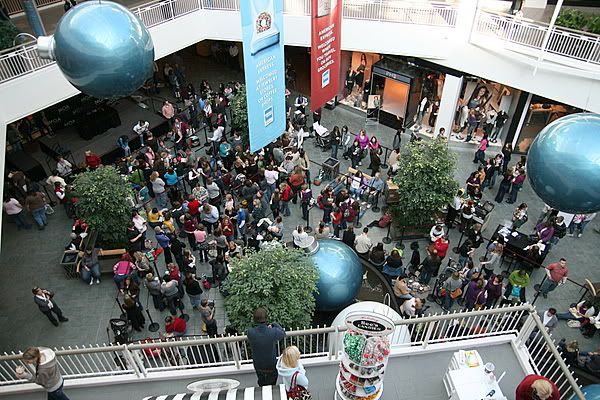 Kristi yelled out "hey there is REE" and pointed to me and the ladies turned around and started screaming.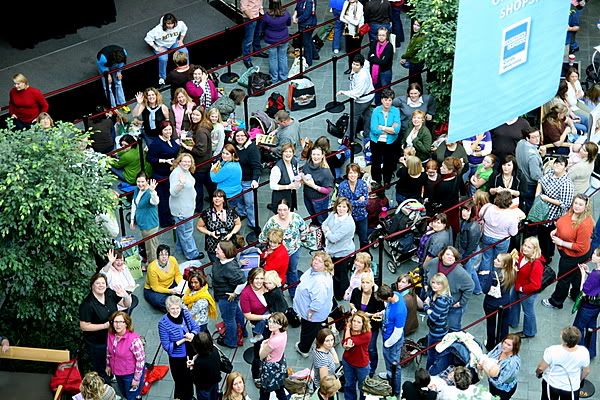 Mean Kristi.
It was a delightful 3.5 hours. We chatted with our line neighbors, I excused myself to Nordstrom's well appointed lounge twice to nurse. We drank coffee. Astrid napped. We waited. We sweated(well I did) with anticipation of the meeting, the enormous crowd, and the warm baby attached to my body.
Do you see the sweat?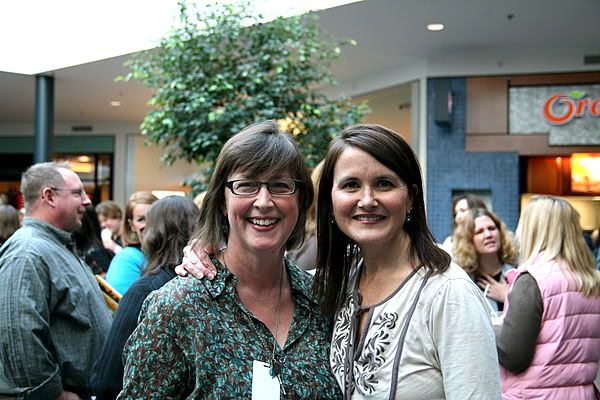 Astrid hung out on the dirty floor, because yes I am that good of a mom. I love germs and dirty floors, and so do my kids.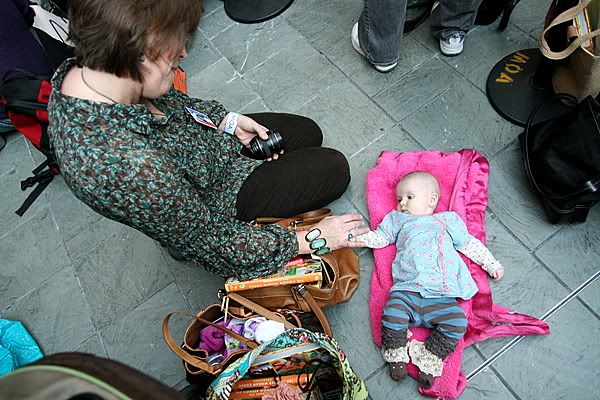 Ree is lovely. Just lovely and warm. Soft spoken, warm smile, beautiful and well, just lovely. She patiently signed my many books that I purchased for the girls teachers this year and she even signed my red Lucchese boots.
I asked her if she could sign my "boots" and I was so nervous that I think I might have said "boobs" - I hope not as that would have been very embarrassing.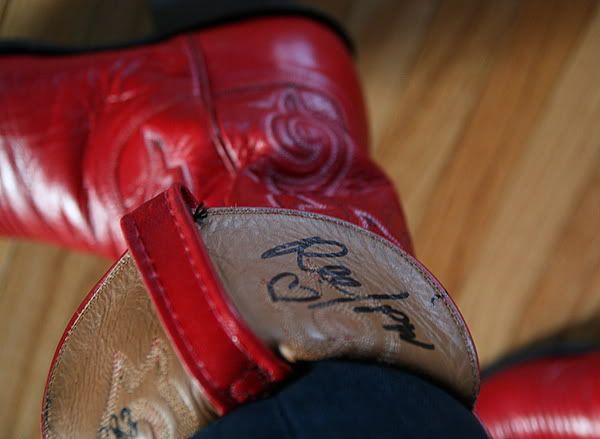 I slept with them last night and dreamed of the country.
I need counseling.
I also found that when I am THAT nervous, I say NOTHING. I just sat and nodded my head with a cheesy smile on my face. It was bad, really bad. Good thing that Kristi receives the gift of gab when she is nervous, because she eloquently had a conversation with Ree while I just sat there holding my cute baby.
Cheesy smile - exhibit A.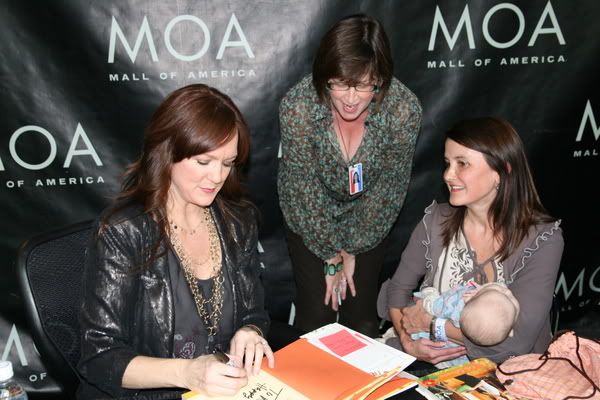 ..and we got to meet Marlboro Man and the boy punks too. Can I just say her boys are beautiful. The best part - SHE DRESSES THEM ALIKE. I got the vapors a bit when I saw that. Now that is a woman after my own heart.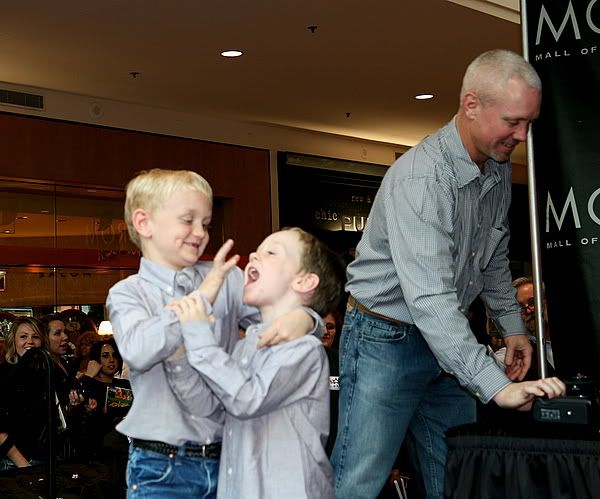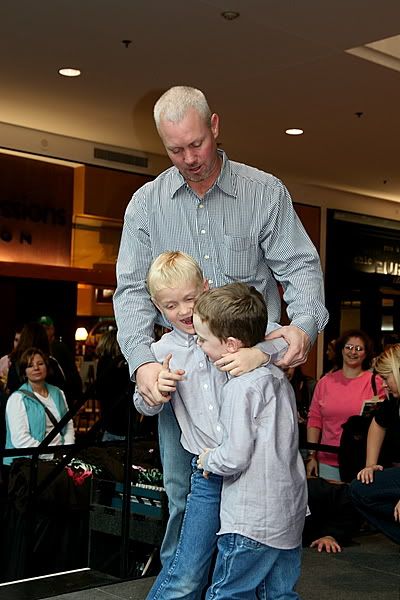 Thanks so much for coming to the North Country, Ree. Safe travels. See you next time.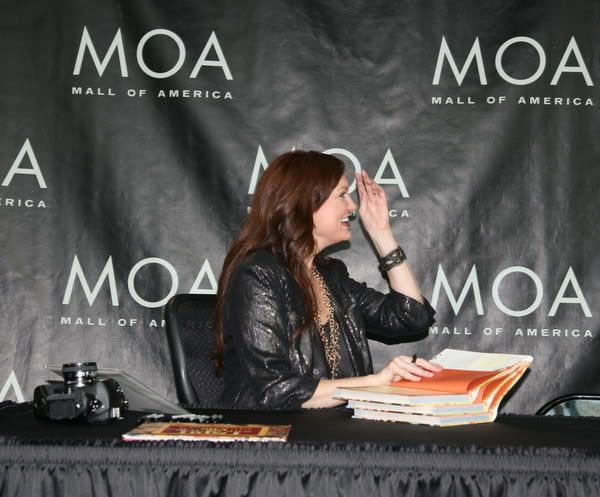 xoxo,t