Esther told me yesterday that she is never going to college as she could never leave home. She wants to live with us forever, but still have 18 kids and another mommy(Sister wife?) to help her.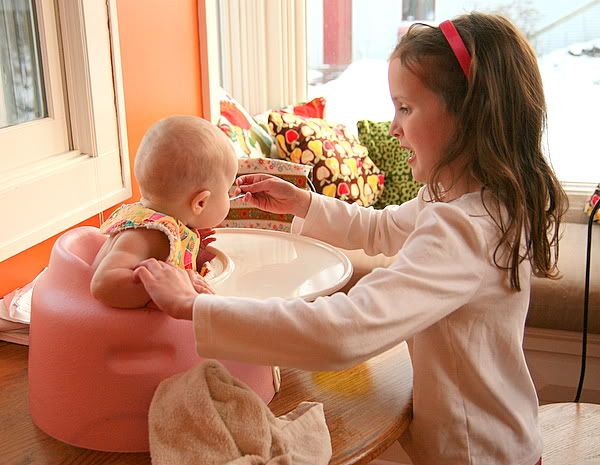 This will never happen - she will leave home, no way are 18 kids living here, but I do admit - there are many days I would do anything for a sister wife.
I wanted to go to college, have a big career and a house decorated in mainly white where no children were ever allowed.
Eloise is very much the same - she talks of college already and lists the careers she wants and isn't too partial to babies. They are messy and kind of gross. I do agree. I tell her that when they are your own babies - none of that bothers you as you let them give you sloppy kisses. She still keeps her distance from Astrid's.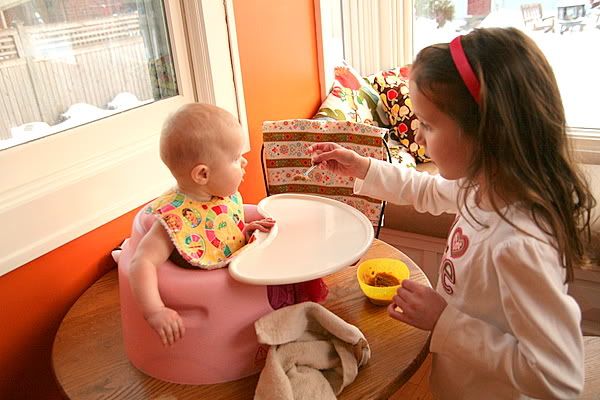 So I have started making Eloise feed Astrid dinner while I cook. Eloise squeals for help when there are pears on Astrid's cheeks to rub off. But Astrid LOVES it. Having never had a younger sibling, it is so endearing to me to see how much Astrid adores her big sisters.
And her big sisters pretty much love her to pieces as long as she is not too gross. I pretty much feel the same way about them.
xoxo,t