I made meat on Christmas. I don't make meat much or much meat for that matter, as I don't eat meat much or much meat for that matter.
Most people, or just me for that matter, struggle a bit cooking foods they don't eat.
We cannot tell by color, texture or flavor and we worry about killing our families. I am a taster by trait in my kitchen and that is impossible to do when meat is involved.
Thus, the invention of the meat thermometer.
I had one, but it must've ended up in the organizational pile of "items rarely used in my kitchen" - thus tossed at some point along with the cookie dough baller, lemon zester and garlic press.
Not wanting to buy a meat thermometer to toss again in 3 years, I sent Jed on a mission to borrow one from the neighbors.
Mission accomplished.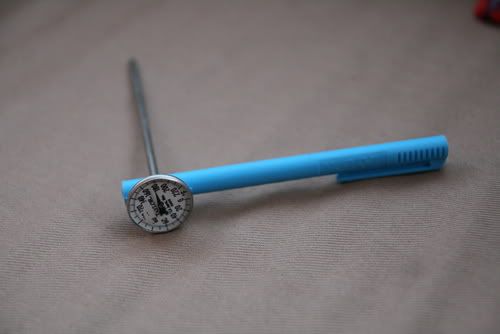 Problem is, I put it in the meat and put the meat in the oven. Upon checking the meat after 15 minutes, a large drip of plastic was hanging off the face of the thermometer.
Plastic on a meat thermometer? I always had glass. How do I use such a device and holy shit I have now ruined it. Now A). How will I know when the meat is done and B.) How will I tell my neighbors that I turned their thermometer into a shrinky-dink and admit that I am so stupid that I put plastic in the oven.
I ran to google - and found their thermometer and found out it is called an "instant thermometer" - that doesn't go into the oven.
How stupid. How stupid to measure the temperature of meat that is cooked in the oven, outside of the oven. How stupid to make a meat thermometer out of plastic. How stupid of me not to notice it was plastic and ruin a thermometer and meat on Christmas.
What is even more stupid is that I was so embarrassed by my minor kitchen catastrophe that I didn't want to tell my neighbors about it, so promptly on December 25th FOUND the exact thermometer on amazon[dot]com from an ace hardware store in Brooklyn, NY and have been impatiently awaiting it's arrival.
For nearly two weeks now, I have avoided talking to my neighbors, making eye contact with my neighbors and promptly ducking inside my house if I spied them walking in front of our home, just to avoid admitting my thermometer shortcomings.
How happy I was when it finally arrived yesterday and I could open it and return it to them unscathed and apologize for only its tardy return and not its demise.
What is more stupid though - than the fact that it is plastic, the fact that I ruined it by putting it in the oven, and the fact that I was too big of a coward to admit it happened, is that it only cost me $3.78 on amazon, and it shipped for free in this HUGE box.(using wine bottle as measuring tool/comparison - as I don't carry rulers around..so if you are wondering how big Astrid is now, she is about 2 1/2 wine bottles long...).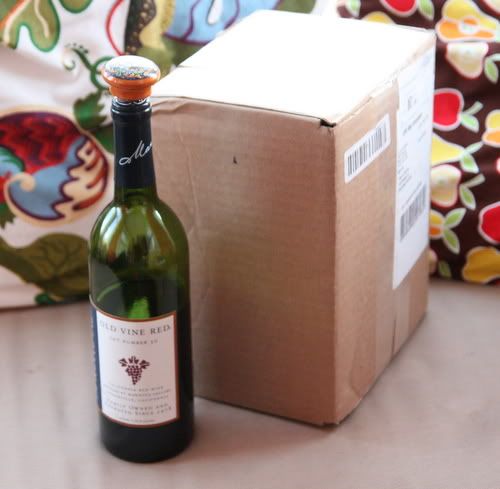 AND that they put on the back of the packaging the use instructions. See, now I was never given those!

xoxo,t