I found this t-shirt yesterday from
Paperlili
while searching for Esther's perfect birthday outfit.
Unfortunately, they are sold-out of her size. It is so her. I am stressing about her birthday outfit because A. she actually requires some special outfit and B. her instructions are "a big 5 in pink bling on her belly with a weawy weawy twiwly skiwt." I am having a rough time of it finding this set.
How did she get so glamorous?
Eloise and I and safe creatures. We care too much about what people think, our clothing is conservative. I hear too much from Esther "Mom, why do you wear black everyday?"
Our clothing matches and we don't accessorize. We wear the same, comfortable shoes every day. We don't like to stand out, be noticed or my goodness have someone talk about us. My face is turning red just thinking about it.
Esther likes to be the life of the party. The loudest, the silliest and the most fashionably dressed.
Nothing matches, hat on backwards, a ponytail on the top of her head, layers of beaded necklaces.
And in as much as I am looking forward to Esther going to school all day next year...I am already lonely for our lunchtime party everyday together. I will miss her if even for the pure entertainment value. I like to use my kids that way.
I always try to set a proper and glamorous plate for her - and make it pretty and colorful just like her. Or I stop buy a few trays of sushi for us to share. Esther loves her food as colorful as she is. Tan is overrated.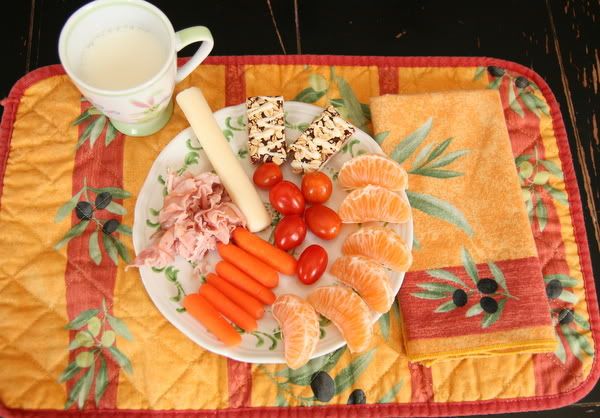 Esther colors my world, my soul and my heart and I worry that my days will be quite unglamorous next year without her company each day.
xoxo,t
p.s. ..and because Esther is the biggest American Idol fan I know - I had to share this clip from last night. I love this man and totally agree with him, and have been singing it all.day.long.