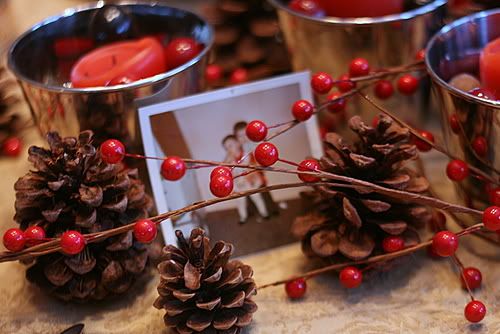 (Please note this picture has nothing to do with my post - I just didn't have one to share. It was my centerpiece at Christmas. The picture is of me and my brother - we were 1 and it was our 2nd Christmas.)
(Also, just for the record my hair is still as stick straight as usual. The curls were just for fun that day to freak out my kids. It worked.)
The Night of a Mother...
6:35 pm Baby's asleep
7:15 pm Girl's are asleep
7:16 pm Mom pours a glass of wine, flops onto the couch and opens her computer
7:17 pm Channel surfing for reality TV
7:30 pm Hubby joins - pours beer, flops on chair across the room and opens laptop
(we are very romantic that way)
8:00 pm Hubby sleeping/snoring loudly in chair. I throw cat toys at him to make it stop
9:30 pm Baby wakes - screaming
10:30 pm I go to bed
11:30 pm Baby wakes - screaming
12:30 am I wake to the noise of the cat puking - get up, find cat, clean-up cat puke
1:30 am Oldest daughter yells out for a drink of water after a bad dream
2:00 am Cat paws at my head and sneezes at my face and starts sniffling to let me know he has a cold and then snuggles under the covers with me.
2:30 am Baby wakes - screaming
3:30 am Husband wakes with HUGE coughing fit, waking the whole household up
4:30 am Cat jumps on me wanting his breakfast
4:35 am Get Up
5:00 am Baby wakes - screaming
And so it goes...
xoxo,t