There are many things that I forgive of my mother...
- her lack of baking skills
- her voiced opinions
- her lack of knowledge of Monet
- her tenacious personality that only a person barely passing 5 feet tall can have
I see in my own motherhood that I need to also be an advocate for my kids - whether they want me to be or not - and with everything a Mother does, we do from our hearts.
There is only one thing that after now 35 years I still could not forgive of my mother.
This..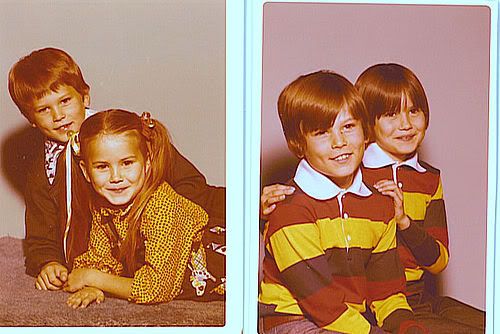 ...not just the haircut that was forced upon me - but wow all of a sudden with this new short "do" I should also be dressed like a boy to match my brother. Really?
I would like to now publicly apologize and forgive my Mom, as now here I deal with brushing out 2 girls long hair with knots and having to deal with crying and screaming and fights every.damn.morning. By 8am I need a stiff drink.
My mom was a pretty smart cookie to cut it off and end the morning madness.
Sure, I still wish I had long locks...but all is now forgiven.
Sorry Mom.
Moms are not really superheros, we just play one at home. We sin daily with our shortcomings and trials and errors. But we succeed daily with our love.
Anything you need to forgive of your Mom today?
xoxo,t