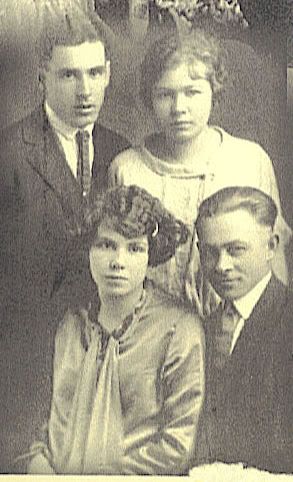 I remember quite vividly the visits to my great-grandmother's house. I was little - 3,4,5 years old and we went to visit her often. I hated those visits. It was not a fun thing to do, so why did my mom feel so obligated?
Her house smelled like old lady. Or what a 4 year old would define an old lady smell as. Urine, cigarette smoke, dust, sickness. She was paralyzed from her strokes and disfigured from her mouth cancer. She lived at home with her aid. She was either in a hospital bed or wheelchair.
This was not a grandmother to me - she didn't give hugs or smiles, she didn't dig in her purse and give me a 1/2 stick of double-mint gum - or juicy fruit if I had been especially good. She was sick, sad from losing her husband so suddenly not too long before, and she was miserable.
I didn't want to hug her. I would spend my time playing with her little figurines in the windowsills and upon the shelves or I would hope my Aunt Gail would visit with us, so we could play together in the stairway landing of my great-grandmother's old duplex.
I would hope we wouldn't have to come again, but we always did. And I would pass the time as best I could while my mom gently did her grandmother's hair, chatting about the latest news and neighborhood gossip, making a meal, and mainly just spending time with her knowing her time was short in this world.
I am sure my mother explained to me what had happened to great-grandma at the time, but I don't remember that. I just remember being 4 and going to a scary house and visiting a scary old woman that I did not recognize.
*******
This January, my daughter's grandmother suffered a massive stroke. Their grandmother that they see the most, who lives in town and treats them to warm hugs, days of coloring, lunches of their choice, and unlimited M&M's.
When they walked into her hospital room on that January evening, I really thought they would go running towards her and into her warm embrace. But instead, the room went uncomfortably quiet as they stood frozen. Their young bodies were completely and unnaturally frozen as they stared and tried to see their grandma in the woman in the hospital bed - whose eyes were distant, body immobile, and words delayed. Instead of running towards her, they fled to the hallway - leaving me tearful and helpless to explain as my own childhood memories came flooding to the surface. As they rushed to the hallway, I went to my step-mom's bedside and held her hand.
Eloise silently sobbed when we left saying "I didn't think she would be so sick, it didn't even look like her. Tell me she will get better."
******
And she is getting better. Therapy is intense. Progress in slow. But my heart is warm and happy to see the hugs and kisses return. To see the girls look forward to the visits, to enjoy driving her wheelchair around, making her pictures to bring sunshine to her room, sharing their tales of the week and bringing treats.
We are mortal - it is not a secret we need to keep from our kids. It is so important to teach our kids what love is like when it is easy and we are healthy and strong, but also how important love is when those who love us need it most.
xoxo,t